What is a Top-Level Domain?
A website address contains several different elements that help set it aside and be remembered. Among those is the top-level domain (TLD), which includes the letters after the period such as .com and .net.
Have you ever wondered what they are and what's their importance?
Aside from being a part of a website URL, the top-level domain is the highest level in the internet's hierarchical Domain Name System (DNS).
As such, it is highly important not only for a website to function but also to appear legitimate to potential visitors.
Deciding on what TLD to use is part of the process of setting up a website. Picking the right one can make a whole difference in your results.
And they look like this: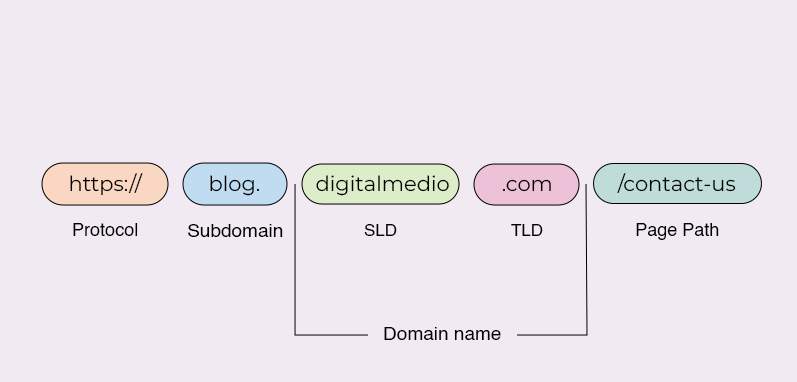 Every website address has a TLD.
TLDs help identify, organize, and classify websites based on their content, purpose, or location.
For example, a .com TLD is typically used for commercial websites. While a .edu TLD is used for schools and educational institutions.
Your TLD can provide users and search engines with an idea of your website's services, location, and work sector.
In this article, we will learn about all the different types of TLDs and where they are being used.
Let's dig deep!
Types of Top-Level Domains
The Internet Corporation for Assigned Names and Numbers (ICANN) operates the Internet Assigned Numbers Authority (IANA), which regulates the use and allocation of domain names.
The IANA groups Top Level Domains into six main types:
1. Generic Top-Level Domains (gTLD)
gTLDs encompass some of the more common domain names seen on the web, such as .com, .net, and .org. The Internet Corporation for Assigned Names and Numbers (ICANN) used to restrict the creation of new gTLDs heavily, but in 2010 these restrictions were relaxed. Now there are hundreds of lesser-known gTLDs, such as .top, .xyz, and .loan.
As of January 2023, there are 1,246 generic top-level domains.
2. Generic-Restricted Top-Level Domains (grTLD)
grTLDs are similar to gTLDs. But their eligibility is restricted for special uses.
IANA requires proof of eligibility to register one.
The following domain extensions are grTLDs.
The .biz grTLD, for example, is designated for bona fide business and commercial use. Your average blog or affiliate site may not be eligible.
3. Sponsored Top-Level Domains (sTLD)
These TLDs typically represent professional, ethnic, or geographical communities. Each sponsored TLD (sTLD) has a delegated sponsor that represents that community.
Some of the most popular sTLDs are:
.edu – for higher educational institutions
.gov – for United States governmental agencies
.cat – for Catalan linguistic and cultural community
.museum – for museum organizations
.travel – for travel industry businesses
Websites with sTLDs help users find official information quickly and are generally considered trustworthy.
There are currently only 14 sponsored top-level domains in the IANA database.
4. Country-Code Top-Level Domains (ccTLD)
Country-code TLDs are reserved for use by countries, sovereign states, and territories. Some examples are .uk (United Kingdom), .us (United States), .au (Australia), and .jp (Japan). The IANA is in charge of picking appropriate organizations in each location to manage ccTLDs.
In recent years, websites have also leveraged ccTLDs for branding purposes.
For example, .io is a ccTLD often used in the tech industry, while .ly (Libya) and .es (Spain) are commonly used to optimize complete domain names, as in Apple's itun.es.
Google has taken note of this practice and has started treating some ccTLDs as gTLDs.
As of January 2023, the IANA database listed 316 country-code top-level domains.
5. Test Top-Level Domains (tTLD)
Test Top-Level Domains are reserved for documentation purposes and local testing, and cannot be installed into the root zone of the Domain Name System. The reason for reserving these specific domain extensions is to reduce the possibility of conflict and confusion.
There are four tTLDs:
.example – for place holding
.invalid – for invalid domain names
.localhost – for usage in local networks
.test – for testing purposes
The IANA database lists several additional tTLDs.
6. Infrastructure Top-Level Domain
This category only contains a single TLD: '.arpa'. Named for DARPA, the U.S. military research organization that helped pioneer the modern Internet, '.arpa' was the first TLD ever created and is now reserved for infrastructural duties, such as facilitating reverse DNS lookups.
You can't register it as a TLD, as it's typically only used for internet infrastructure purposes.
Wrap Up
There are now so many TLD options available that the choice can be overwhelming for someone trying to register a new domain name. For years '.com' was seen as the only option for businesses that want to be taken seriously. But experts predict that as the supply of '.com' domains dwindles and some of the newer TLDs continue to pick up the pace, we will see a major shift in the insight of alternative TLDs. With big companies like Apple and Twitter starting to adopt alternative TLDs for their products, we are already seeing that shift in action. So it is advisable to create an intelligent and memorable domain name using an alternative TLD than to insist on a .com domain.
Stay connected with us to learn more about TLD and make the appropriate decision for your business.